Quote of the Week
"Islam is Allah's final message to mankind, the Holy Quran His final Book, and Muhammad, may peace be upon him, His last and final Prophet. These are the fundamental principles of faith enshrined in the Shahada and the Tawhid therein, which bind the Ummah in an eternal bond of unity. With other Muslims, they are continuously reaffirmed by the Shia Ismaili Muslims of whom I am the 49th hereditary Imam in direct lineal descent from the first Shia Imam, Hazrat Ali ibn Abi Talib through his marriage to Bibi Fatimat-az-Zahra, our beloved Prophet's daughter."
Mawlana Hazar Imam, Message to the International Islamic Conference, July 2005
Video of the Month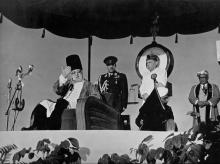 The Historic Jubilees of Aga Khan III
As we commemorate Mawlana Hazar Imam's Diamond Jubilee, we take a look back at the commemoration of the Jubilee's of our 48th Imam, Mawlana Sultan Mahomed Shah. Watch 6:03
Region:

Edmonton
Bait-ul-Ilm Secondary Parent Sessions on engaging with the IIS Secondary Curriculum will be held during class follows:
Region:

Ottawa
Start Date:

Thursday, September 21, 2017

Start Time:

After Jamati Ceremonies

Location:

Ottawa Headquarters Jamatkhana
The Seniors Pot Luck event will be held on September 21, 2017 after Jamati ceremonies in the Social Hall.
Region:

Edmonton
Start Date:

Friday, September 22, 2017

Start Time:

4:45 PM

End Date:

Saturday, September 23, 2017

End Time:

4:45 PM

Location:

Lone Prairie Campsite
Join us for the next Diamond Day to discuss the history and significance of Jamatkhana in our lives.
Celebrate the Diamond Jubilee with devotional music at all Jamatkhanas.
The City of Calgary proclaimed Sunday, September 17th, 2017 as Ismaili CIVIC 150 Day.  We would like to thank the more than 500 volunteers who performed nearly 1,600 hours of voluntary service to improve the quality of life of our fellow Calgarians.  Our Calgary volunteers aged 2 to 93 participated in 9 service events with 6 partner agencies.  Be sure to check out our Facebook and Instagram pages as well as the news coverage from September 17th on CTV and CBC to see our Jamat in action. 
You can continue to participate on your own by visiting Ismaili Civic to register, record and track your hours to be counted towards the Canadian Jamat's one million hour pledge to Canada.  Stay tuned for future service opportunities. 
The Edmonton Jamat is invited to volunteer with the University of Alberta to help host the Canada 150 Community Celebration and the grand opening of the Evergreen Pond. Volunteer opportunities include facilitating children activities, distributing snacks, traffic/parking control, set-up/take-down and hosting duties.  
The Aga Khan Education Board is looking for dedicated volunteers to mentor and assist students from K – G12 with their school work and homework. If you wish to volunteer with any subject and have a desire to work with students of all capabilities, please email salima.meherali@iicanada.net or complete the registration form at ICARE.  
Subscribe to Al-Akhbar