Quote of the Week
"If I could express one hope for all of you, as you leave this place today, it is that you will appreciate even more deeply how much culture matters in Muslim societies, and how deeply culture is entwined for Muslims with matters of faith… At a time when the forces of exclusion, alienation, and separation can often seem so threatening in our world, I am convinced that our ability to honor authentic symbols of pride and identity – and to share their beauty and their power with one another – can be a tremendous force for good."
Video of the Month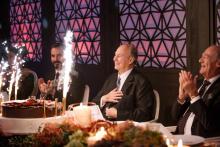 Celebration of Mawlana Hazar Imam's 80th birthday at Aiglemont
Mawlana Hazar Imam's 80th birthday was celebrated by the Jamati and institutional leaders, and members of Hazar Imam's family on 16 December 2016 at Aiglemont in France. Watch (49:37)
Region:

Ontario
Start Date:

Saturday, January 7, 2017

Start Time:

3:30 p.m.

End Date:

Saturday, February 25, 2017

Location:

East York Jamatkhana
All Jamati members are invited to attend an information session on Living Life to the Full, an 8-week program to improve coping skills for everyday life challenges and ongoing stresses, from Saturday, January 7 to Saturday, February 25 from 3:30 to 6:30 p.m. at East York Jamatkhana. The Jamat is encouraged to attend this information session and register for the program.
For more information, please contact the Health Board Program Coordinators or e-mail akhbont@gmail.com for more information.
Region:

Ontario
Start Date:

Sunday, January 15, 2017

Start Time:

8:00 a.m.

End Date:

Sunday, January 22, 2017

Location:

Unionville Jamatkhana
Mental Health First Aid (MHFA) helps people provide initial support to someone who may be developing a mental problem or experiencing mental health crises. The course aims to improve mental health literacy in our Jamat by providing the skills and knowledge to help people better manage potential or developing mental health problems in themselves, family members, friends or colleagues. The course will take place on Sunday, January 15 and Sunday, January 22 from 8:00 a.m. to 5:00 p.m. at Unionville Jamatkhana.
Members of the Jamat including IVC and Jamati Leadership are highly encouraged to attend. To register, please e-mail akhbont@gmail.com.
Region:

Ontario
Start Date:

Sunday, January 15, 2017

Start Time:

3:15 p.m.

End Date:

Monday, March 13, 2017

Location:

East York Jamatkhana
Youth ages 12-17 are encouraged to register for a 9-class course on Effective Communication and Leadership in collaboration with Toastmasters International at East York Jamatkhana on Sundays from 3:15 - 5:00 p.m. beginning January 15.
Batting for mental health: the third annual Premier Cup Gala recognized local cricketeers and raised over $15,000 for a Canadian organization that spreads awareness about mental health.
By: Gazalla Hirji
As part of Canada's 150th anniversary, the United Nations Association in Canada and the British Council Canada are launching Active Citizens Social Enterprise (ACSE) in communities across the country. ACSE is a social leadership training programme that provides opportunity to young Canadians from diverse backgrounds, between 18-35 years of age, to learn about and experiment with social innovation. The programme will train 150 Canadian youth and local trainers in six cities across Canada on the ACSE toolkit, enabling them to effectively address their identified community challenge. Visit their website and apply today
Do you aspire to pursue a career in international development? Do you want to learn about poverty alleviation at the grassroots-level? The AKFC Fellowship is a well-established international development experience open to Canadians under the age of 30 with an undergraduate degree. Fellows are placed in Asian and African countries working in education, health, civil society and rural development.
A former AKFC Fellow will conduct an information session about the program on Tuesday, January 17th, 2017 at post-secondary Jamat Khana (University of Alberta Education Building Basement) at 6:30 pm. Non-ismaili friends and colleagues are welcome to attend. For further information please contact Nabila Walji: walji.nabila@gmail.com. Please Note: Applications require multiple reference letters and are due on February 1st, 2017.
Volunteer to work with students that have special educational needs.
Professionals to provide sliding scale or pro-bono services
Local opportunities available.
Subscribe to Al-Akhbar