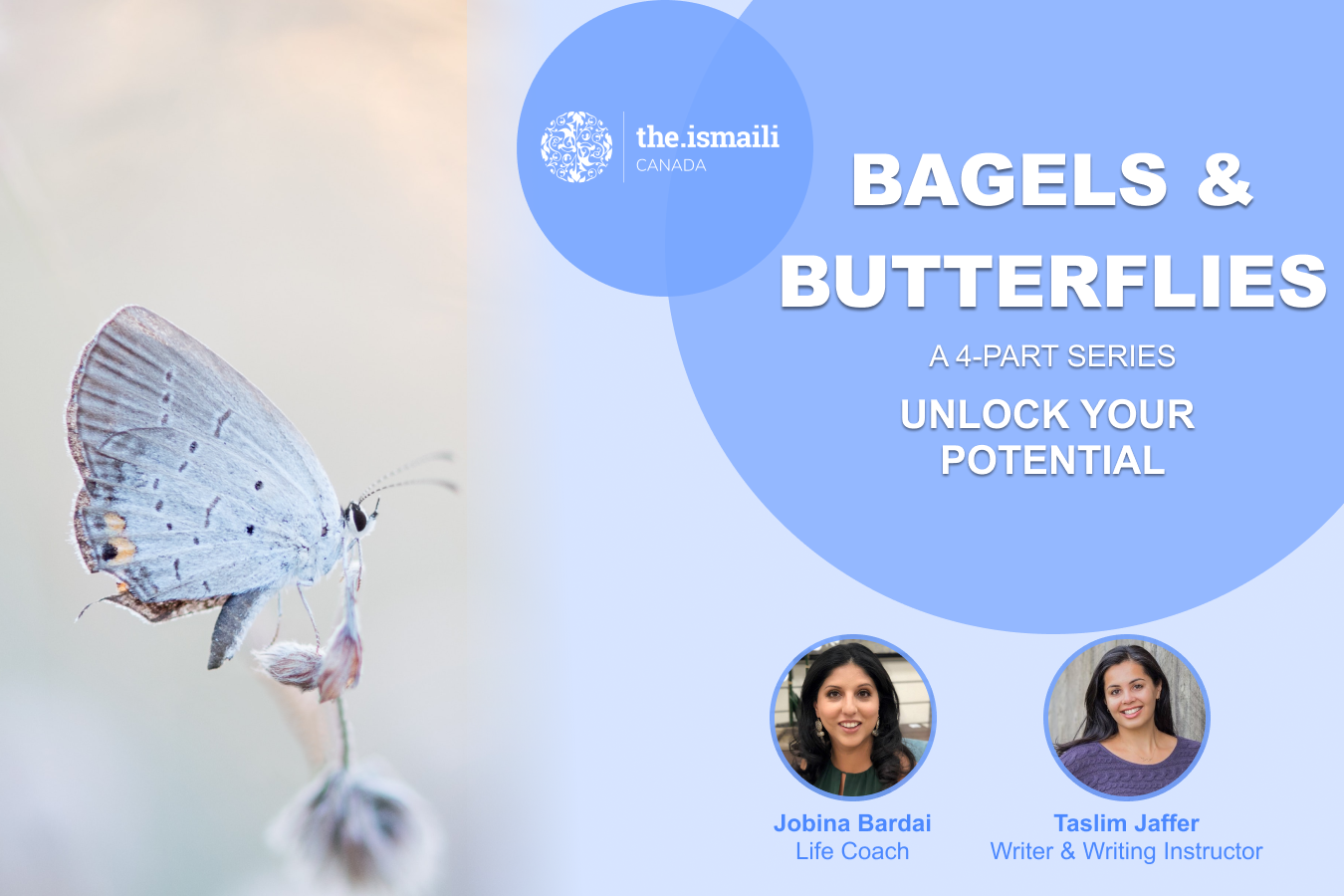 Description
Take a deep breath and connect with where you are right now. Notice what is, where you are, who you are. What possibilities exist in this place, in you? Breathe in this space and explore through thoughtful discussion and writing.
Breathe, believe, begin, and become via a four week series, Bagels & Butterflies. This four-week series of conversations and writing exercises is open to women of all ages, including multi-faith family members. Join us for the first part on Sunday, January 16.
Practice grounding yourself and unlock your potential with Life Coach Jobina Bardai and Expressive Writing Instructor Taslim Jaffer. While you're at it, learn a little about bagels and try some recipes along the way! Because becoming can be delicious!
Each workshop will be a live, interactive session offered via Zoom. They will be 1.5 hours in length and will commence at 9:30am PT | 10:30am MT | 12:30pm ET. The maximum capacity is 300 participants.
Registration is required. By registering for the series, you are automatically included in all four sessions. In order to ensure confidentiality, sessions will not be recorded. All participants will need to attend the live sessions with their cameras on.
-----
Jobina Bardai is a transformational life coach. She helps people who are struggling through a life change or transition to improve their relationships with themselves and others, so they can discover a path to their ideal future. She assists individuals who may feel stuck, overwhelmed, uncertain, or overlooked to work towards navigating such changes more easily and with confidence. She considers herself to be well-practiced, experienced, and a master at navigating life's transitions, after being thrown more than her fair share of them. Today, she uses her skills as a life coach and her personal journey of overcoming unexpected change to help others obtain fresh outlooks, make bold changes, and engage in new beginnings.
Taslim Jaffer is a freelance writer and editor currently pursuing her Master of Fine Arts in Creative Nonfiction. Her work has appeared in CBC, Maclean's, Huffington Post Canada, WestCoast Families, Peace Arch News, Unearth Women, and more. She has taught memoir and expressive writing classes in rehabilitative and community settings since 2015. Taslim is inspired by family stories, culture and society, as well as the age-old question, "Who am I?". She lives in Surrey with her husband and three children.