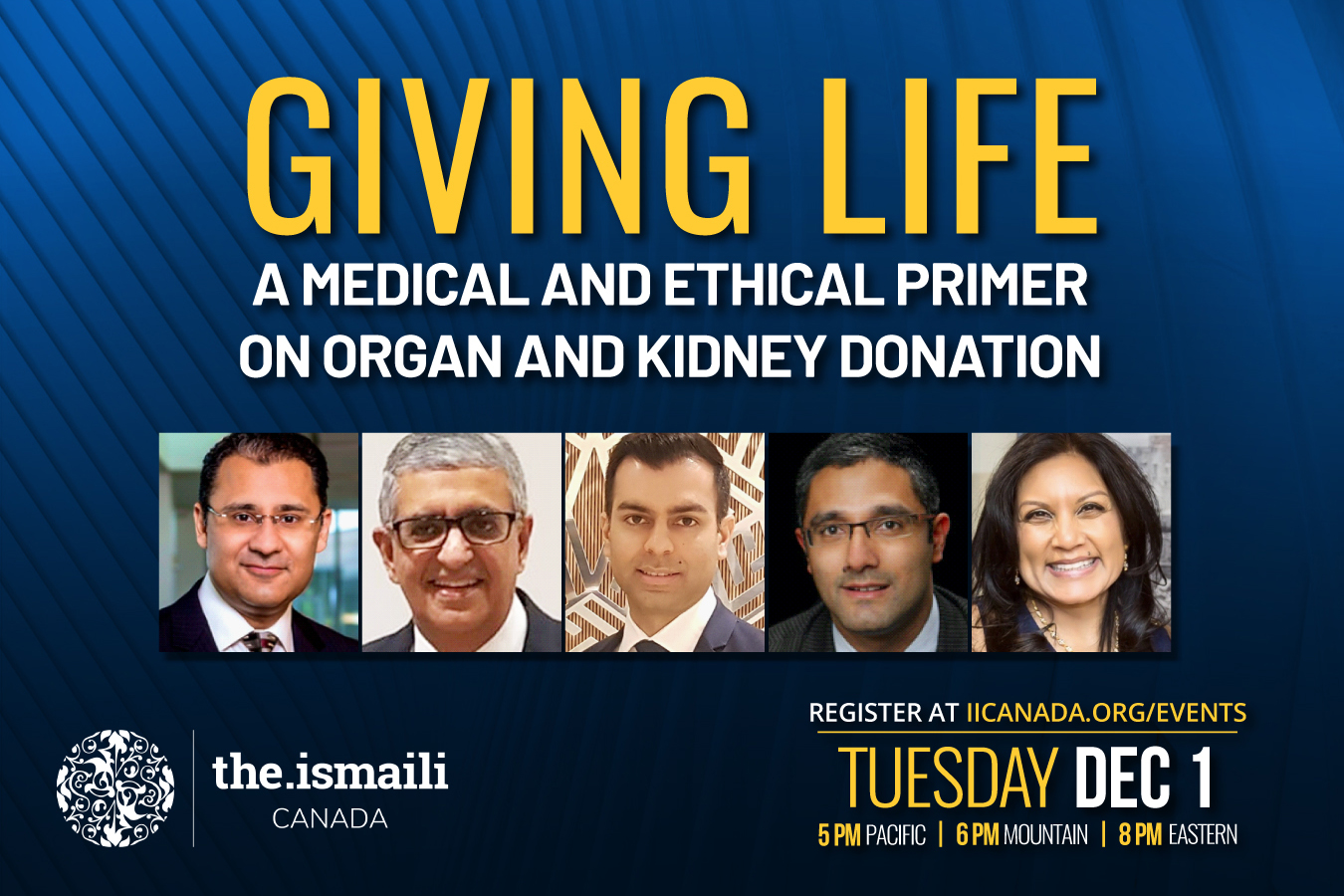 Open to Multi-faith
family members
Description
There are many Canadians on the organ transplant list. Have you ever thought about organ donation? What are the medical and religious implications of this?
Nephrologist Dr. Mohamud Karim, Al-Waez Dr. Aman Haji, Kidney Donor Naqib Azad, and Resource Teacher Salimah Fidai will present a thought-provoking and informative webinar on organ donation with moderator Dr. Ryaz Chagpar. The session will include a discussion about the current demand for organs, the medical and religious implications of organ donation, and its impact on both donors and recipients.
-----
Dr. Mohamud Karim is a nephrologist at the Fraser Health Authority with a specialty in End of Life Care, and a Clinical Associate Professor at the University of British Columbia. He has worked at the Aga Khan Hospitals in Nairobi and Dar-es-Salaam. His prior institutional background includes being the Honorary Secretary and Chairman of ITREB Canada from 2002-2015.
Al-Waez Dr. Aman Haji graduated from the IIS International Waezeen Training Program (IWTP) in 2003. He has a varied background, with degrees in psychology, health promotion, chiropractic, law, hyperbaric medicine, and most recently clinical medicine. He currently practices as a family physician and addiction medicine physician in the Lower Mainland, BC. Dr Haji will be presenting on some of the ethical and Tariqah-related perspectives of organ donation.
Naqib Azad is originally from Nakuru, Kenya, and currently resides in Coquitlam, BC. In August of 2015, Naqib donated his kidney to his father. The transplant was completed in Mumbai, India. Naqib was able to adjust back to a normal life after the transplant, and he currently works as an Investment Representative with BMO Nesbitt Burns. In his free time, Naqib can be found exploring the beautiful waterways of British Columbia.
Salimah Fidai has a Master's degree in Art Education and currently works as a resource teacher focusing on English Language Learners at Chartwell Elementary school in West Vancouver. Over the past 23 years, she has taught a variety of grades, from kindergarten to high school, and has been a teacher mentor and professional development leader within her school district. In her role as an ELL teacher, she works closely with students and parents from varying international backgrounds. She supports and facilitates their transition to a new country and school system in order to create a sense of belonging, while also promoting cultural diversity and sensitivity.
Dr. Ryaz Chagpar is a general and endocrine surgeon within the Department of Surgery at the University of British Columbia. Born and raised in Canada, he completed his BSc. in Honors Biochemistry at the University of Alberta, and his MD and MSc at the University of Saskatchewan. He went on to complete his general surgery residency training at Western University, during which time he also completed a postdoctoral research fellowship in Surgical Oncology from MD Anderson Cancer Center. He subsequently completed an American Association of Endocrine Surgeons clinical fellowship at the Cleveland Clinic before eventually returning back home to Canada. His research interests are broad, and include unraveling the molecular biology and drivers of cancer and diabetes, as well investigating methods to improve quality and value of care using large, multi-institutional, nationally representative, and population-based data registries. He has presented his research nationally and internationally, and has published numerous peer-reviewed articles in high-impact journals. He has an interest in global health partnerships, and is passionate about volunteering his time both locally and abroad to improve health outcomes for various communities around the world.