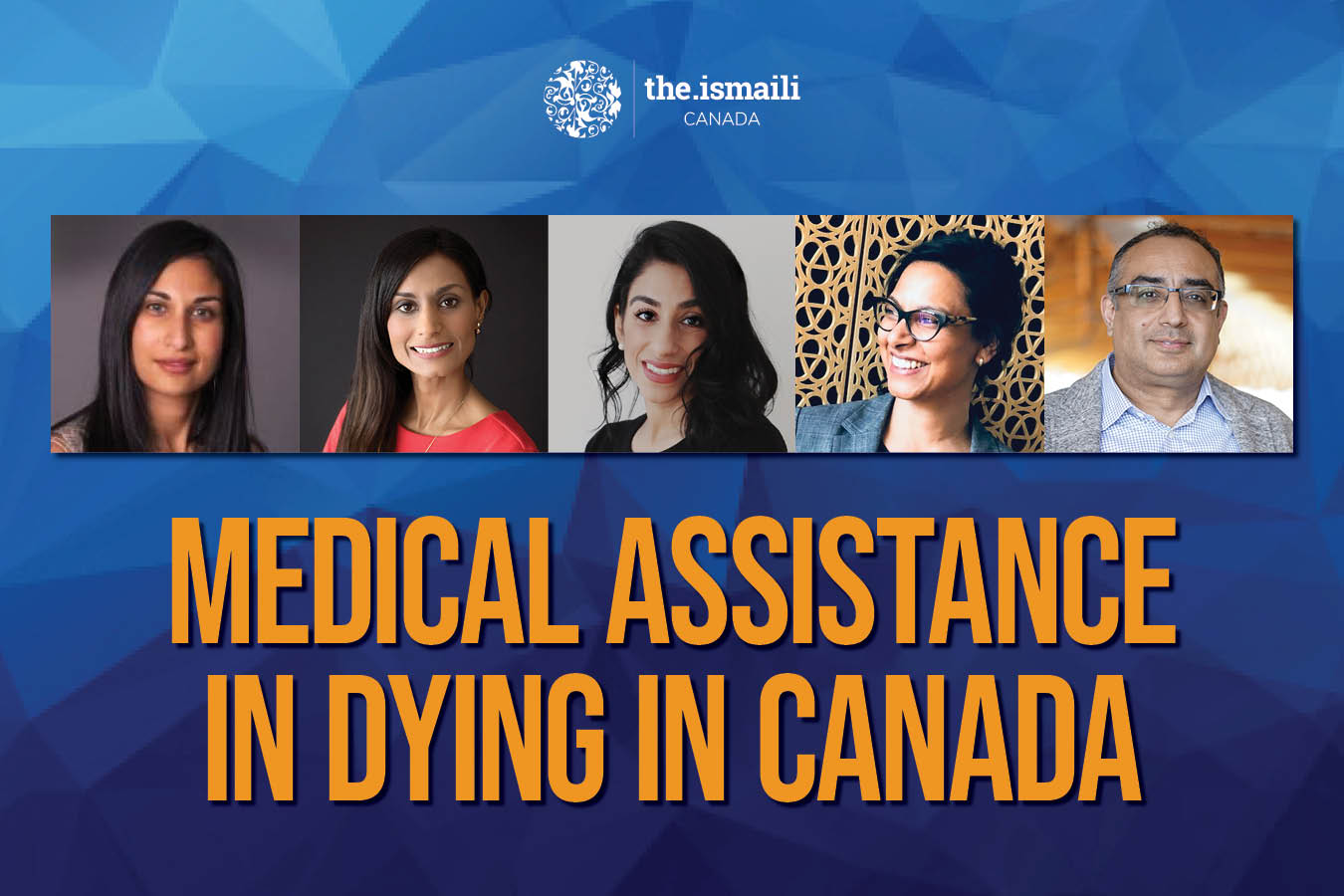 Open to Multi-faith
family members
Description
How should health care professionals navigate through questions raised by the legalization of Medical Assistance in Dying (MAID) in Canada? As a healthcare provider, how should one balance professional and personal commitments in providing good end-of-life care?
The session will provide a brief update on the legal and regulatory requirements related to MAID and explore an ethical framework to assist healthcare providers to consider their obligations.
Panelists Dr. Safiya Karim and Dr. Nimira Alimohamed (medical oncologists at the University of Calgary), Dr. Nureen Sumar (family physician and palliative care provider in Calgary), and Dr. Bashir Jiwani (Executive Director, Ethics and Diversity Services at Fraser Health), will reflect on their own practitioner experiences in decisions regarding medical assistance in dying. The session will be moderated by Dr. Zahra Shajani (Associate Dean of Nursing at the University of Calgary and Chair of the Aga Khan Health Board for the Prairies).
-----
Dr. Safiya Karim is a medical oncologist and clinical assistant professor at the Tom Baker Cancer Centre and the University of Calgary. She completed medical school at the University of Calgary in 2011 and subsequently completed her medical oncology residency at the University of Toronto. She completed a fellowship in health services research as well as a Master's degree in healthcare quality and patient safety from Queen's University. Her primary focus areas are gastrointestinal and genitourinary malignancies. Dr. Karim is also a certified yoga instructor and recently completed the yoga thrive teacher training, which provides gentle yoga to cancer patients and survivors.
Dr. Nimira Alimohamed is a medical oncologist at the Tom Baker Cancer Centre in Calgary, and a clinical associate professor at the University of Calgary. Her areas of expertise include genitourinary and breast oncology. She is also actively involved in education, and the Program Director for the Medical Oncology Residency Training Program at the University of Calgary. Dr. Alimohamed is also the Chair of the Southern Alberta GU Tumour Group and is actively involved with research in novel treatments for patients with bladder cancer. When she is not working, she is busy hiking, biking, and learning to ski with her family.
Dr. Nureen Sumar is a family physician in Calgary. She completed a Bachelor of Music (Jazz) and Bachelor of Science (Microbiology and Immunology) at McGill University. She went on to pursue her medical degree, family medicine residency, and enhanced skills training in primary care oncology at the University of Calgary. She completed a Masters in Epidemiology at the London School of Hygiene and Tropical Medicine in the United Kingdom, and has academic interests in systematic pathways and predictors of palliative care and health resource use at end-of-life. Dr. Sumar has ongoing leadership and training pursuits with Harvard University's Palliative Care Education and Practice program. Her scope of practice includes general practitioner oncology, palliative care and hospice medicine, survivorship and addictions medicine. Dr. Sumar has also long been involved in physician leadership, currently serving on several national committees within the College of Family Physicians of Canada (CFPC), regionally with the Alberta College of Family Physicians (ACFP), and within the arts community on the Calgary Opera board of directors. Science drives her artistic endeavours and art inspires her clinical practice – both inextricably connected.
Dr. Bashir Jiwani serves as Chief Ethicist and Executive Director, Ethics Services and Diversity Services with the Fraser Health Authority. He is also a consultant with various government, academic, healthcare, and Jamati institutions. Dr. Jiwani serves inter-related communities to live better, more peaceful and just lives. He believes this can happen through careful attention to the choices we make, such as our attitude and behaviour towards ourselves and each other.
Dr. Zahra Shajani is a tenured Associate Dean of Nursing, Undergraduate Practice Education at the University of Calgary. She holds a Bachelor of Nursing from the University of Calgary, a Master's in Public Health, and a Doctorate in Nursing Education from the University of Liverpool. She has authored a family nursing textbook and has experience in family nursing, community health, maternal child health, and medical nursing. She has been a co-investigator on funded projects on nursing education, which have focused on the science of learning and the science of teaching. She is currently the Aga Khan Health Board Chair for the Prairies as well as a board member for Multi-Generational Housing.