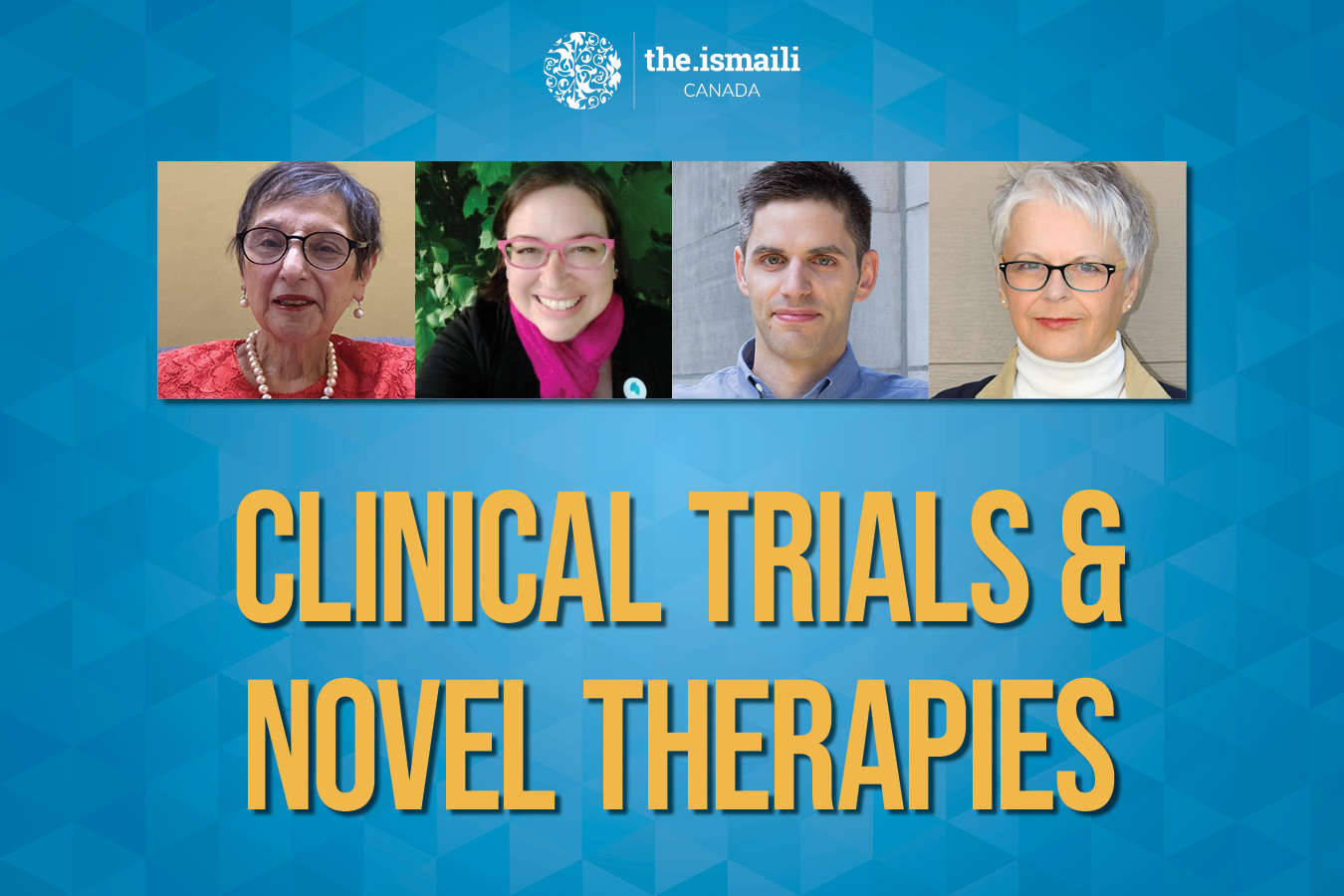 Open to Multi-faith
family members
Description
Clinical trials are essential tools in advancing our knowledge of the prevention, diagnosis and management of various cancers, and often play a significant role in the journey of the patient. Understanding the types of trials that are available, as well as the potential risks and benefits related to various outcomes - such as overall survival and quality of life - is an important process that patients should engage in prior to enrolment.
Join us for the fifth session of the National Cancer Series, where we will discuss the personal impact of clinical trials for patients with cancer, how to speak with oncologists and understand the options that are available, and also provide a broad overview of some of the types of current and novel therapies that are becoming available.
---
Jill Hamer-Wilson is passionate about cancer research. "My life was saved by a clinical trial," she proclaims. Jill is a lung cancer survivor advocate, and wants everyone affected by cancer to have access to the best care possible, to live longer and better. "Research matters, because more research means more survivors and better survivorship!" Jill volunteers many hours each week for people affected by cancer, with a focus on research and clinical trials. She is connected with researchers, advocates, survivors, clinicians and caregivers worldwide.
Jill received a Bachelor of Engineering degree from McGill University, a Master of Theological Studies degree from Tyndale University, and a Bachelor of Education from the University of Ottawa. She has actively contributed towards cancer advocacy for two decades, by inspiring developing leaders, team building and community organising.  She is an effective communicator, advisor and patient research representative. Jill works with many organisations both here in Canada and internationally, including the Canadian Cancer Society, Canadian Cancer Trials Group, and The Canadian Cancer Clinical Trials Network.
Judy Needham is a breast cancer survivor from British Columbia, and she is now retired from a corporate marketing career, where she was Director of Campaign Planning.  Her current (volunteer) responsibilities are primarily with the Canadian Cancer Trials Group (CCTG) where she is Chairperson of the Patient Representative Committee, Member of the Strategic Executive Advisory Council, and Member of the Clinical Trials Committee. The CCTG is a program of the Canadian Cancer Society.
Judy has been very instrumental in advancing patient engagement in research in Canada.  She was the first recipient of the Canadian Cancer Research Alliance's Award (CCRA) for Exceptional Leadership in Patient Involvement in Cancer Research in 2017.
Judy chose early retirement after her journey with breast cancer and began her voluntary work with the Board of Directors for the Canadian Breast Cancer Foundation in British Columbia, where she spearheaded major fundraising initiatives and led development of patient-facing decision-making material for newly diagnosed patients. Her work led to invitations to work with the Canadian Cancer Society grant panels and Scientific Advisory Councils.
As chair of the CCTG Patient Representative Committee since 2012, she has led and implemented patient engagement in the design, execution and delivery of cancer clinical trials. She is also a member of the Steering Committee of the Canadian Cancer Clinical Trials Network (3CTN).
Judy stays engaged locally as a member of the BC Cancer Provincial Research Advisory Committee and her local Cancer Centre in Abbotsford.
David Cescon, MD, PhD, is a breast medical oncologist and clinician scientist at the Princess Margaret Cancer Centre. His research integrates laboratory and clinical studies to focus on the identification of breast cancer therapeutic vulnerabilities and determinants of drug response and resistance. Leveraging genomic tools, including liquid biopsy, the overarching goal of this work is to advance the delivery of precision therapy to improve breast cancer outcomes through both prevention and treatment of metastatic disease.
He is a member of multiple international organizations that focus on breast cancer trials, including the US National Cancer Institute and Breast International Groups, as well as the Canadian Cancer Trials Group, where he is the incoming chair of the Investigational New Drug Program.
Shamim Jivani grew up in Rwanda and Belgium before coming to Canada in 1988. She worked for the federal government as a client advisor in the Translation Bureau for 25 years. She has a degree in translation from the University of Brussels and is fluent in English, French and Spanish.
In 2001, she formed the Ismaili Women's Cancer Support Group in Vancouver, in collaboration with the Women's Portfolio and Canadian Cancer Society. As part of a TKN assignment, Shamim travelled to the Aga Khan University in Karachi to guide the development of local cancer support groups and was part of a team that trained women to act as peer facilitators.
Shamim serves on the Board of Directors of the Canadian Cancer Society, and has recently joined Inspire Health to promote their wellness program for cancer patients in different communities. She is happily married with 3 children and 2 granddaughters, and currently lives in North Vancouver, where she finds joy in reading and nature walks.