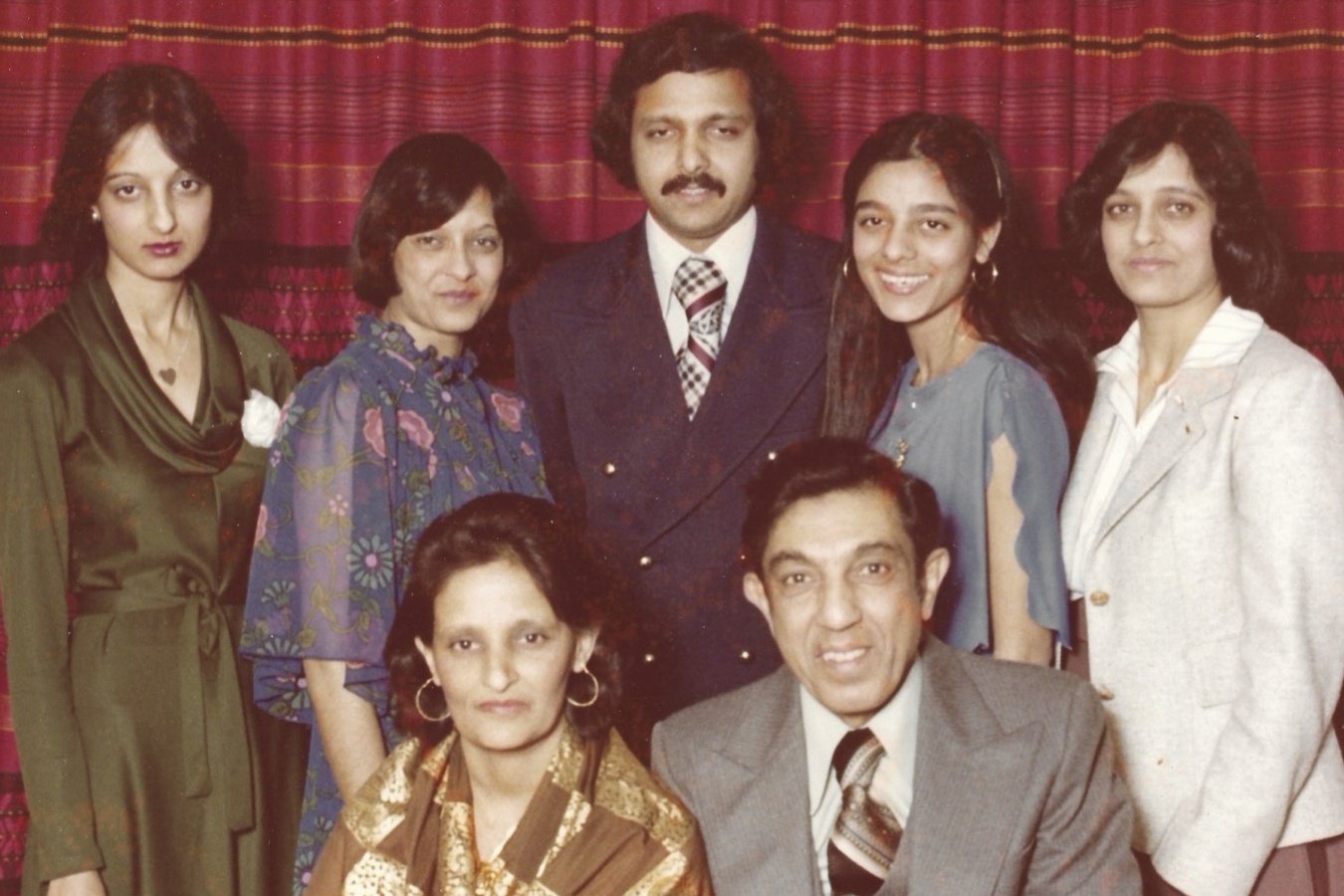 Stories of Our Wise: Gulbanu Jamani
October 4, 2020 | Canada
Written by: Rahima Bhaloo and family
My grandmother, Gulbanu, who we call Gulie or Motta Mummy, has seen diversity firsthand by virtue ofall the places she's lived in. 
Gulie started her journey in Nairobi. She was 16 when she met her husband, Hassanali Jamani. They were married soon after by Mawlana Sultan Mahomed Shah in Dar-es-Salaam during his Diamond Jubilee. After getting married, they moved to Kampala, Uganda, where they started their family. 
Gulie and Hassanali had twin girls followed by four more children - six altogether - though their second-youngest daughter passed away when she was only two years old. They also managed two successful businesses.
In 1972, the political situation in Uganda forced Gulie, Hassanali, and their two youngest daughters to leave their businesses, home, schools, and the life they had created. Their other children were old enough to take care of themselves.
The Red Cross helped organize their departure from Kampala and their temporary settlement at a refugee camp in Naples, Italy. Their stay in Italy ended after a few months when the U.S. sponsored them, offering to be their new home. 
In 1972, the four family members moved to New Orleans, Louisiana.
Gulie and her family had to start from scratch and get used to the new culture. The English there had a different dialect. They were isolated, unemployed, and with no access to a Jamatkhana. 
Motta Mummy got to know her neighbours and her family slowly got accustomed to the new environment. She helped the elderly and soon involved the rest of her family in her good deeds whenever they were available. 
In 1973, Gulie's second-eldest daughter wrote to Prince Sadruddin Aga Khan, the High Commissioner of the United Nations, and asked if he could locate her parents and two younger sisters. Prince Sadruddin helped them, and Gulie's second-eldest daughter sponsored the four of them to move to Canada immediately. 
They all moved to Ottawa, where Gulie's entire family was finally reunited. There, she and her husband opened a grocery store called Gulbanu's Groceries.
She worked hard raising her children, looking after household chores, and working. Although Gulie had a busy life, she made time to volunteer at Jamatkhana and at the hospital in her newly adopted land. 
Gulie volunteered at the Ottawa Civic Hospital and Elisabeth Bruyere Hospital. Her duties included visiting with patients, feeding them, taking them by wheelchair to beauty appointments, and exercising with them. 
When it came time for Gulie and her husband to retire, they could not think of a better place than British Columbia. In 2000, they made the cross-country journey to start a new chapter in their lives. Once they settled in Vancouver, they quickly became badged IVC members and met new friends. 
They led a fantastic and exciting life together before Hassanali passed away in 2015. Gulie received support from the Ismaili Care for the Elderly Board (CFTE) and from Fraser Health's support services during this time. The CFTE volunteer would visit Gulie once a week, playing games, engaging in activities, and reciting prayers with her.
Gulie now has eight grandchildren and four great grandchildren. She longs for when she can spend physical time with them again once the pandemic is over.
I admire my grandmother because throughout her life, no matter how busy she was, she always made time to help others.
--
Stories of Our Wise aims to capture the incredible stories and life journeys of our Canadian Ismaili seniors. Each week, we will be highlighting a new story. We encourage all individuals, particularly youth, to have these meaningful conversations with their loved ones, and contribute their stories to this collection. To submit a story, please use the Story Submission Form.