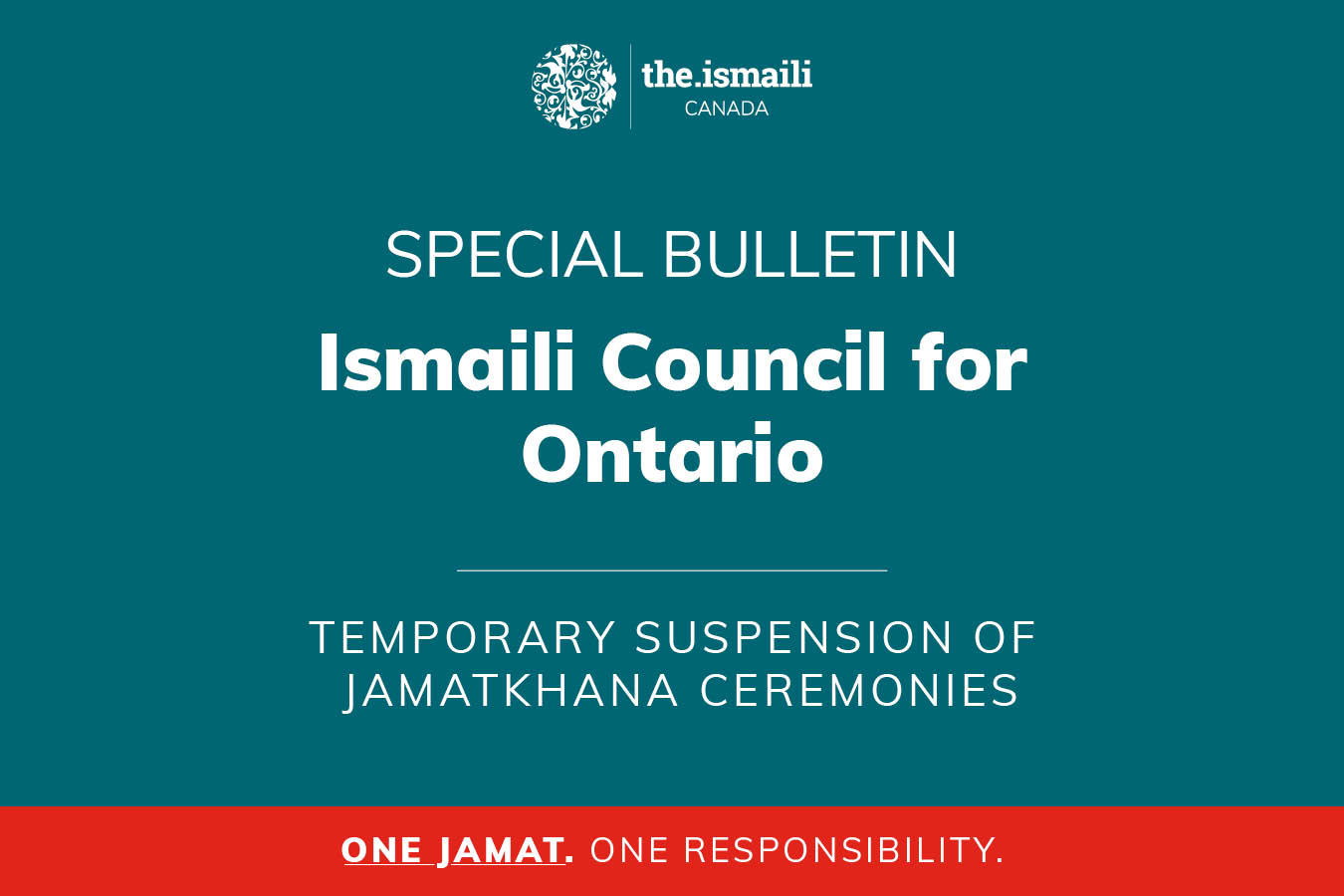 Temporary Suspension of all Jamatkhana Ceremonies in Toronto and Peel Regions
November 20, 2020 | Ontario
In response to new public health regulations announced by the Government of Ontario, all Jamatkhana ceremonies will be temporarily suspended after the completion of evening ceremonies on Sunday, November 22 in the following Jamatkhanas:
Brampton
Don Mills
East York
Etobicoke
Headquarters
Meadowvale
Mississauga
Scarborough and
Willowdale
This suspension applies to all morning, evening and weekend ceremonies at the above Jamatkhanas – with no exceptions. All other Jamatkhanas continue to operate as before. Members of the Jamat are respectfully requested not to travel between regions to attend Jamatkhana in order to protect the health and safety of Jamati members elsewhere.
Given the escalating rates of COVID-19, Jamati members are urged to follow all public health guidelines, including:
No indoor social gatherings with anyone outside of your immediate household
Continue frequent handwashing/sanitizing
Wear a mask when leaving the home or when coming into close proximity with those outside your household
Maintain a distance of 2 metres from others not in your household
Let's continue to protect each other and especially the vulnerable members of our families and the Jamat.
Also, please remember:
If you are feeling unwell, see your doctor or call Telehealth Ontario at 1-866-797-0000
If you need information or support, call the Jamati Access Line at 1-888-536-3599
We will continue to monitor the situation, and, working closely with our public health professionals, to keep the Jamat informed of any new developments.
For regular and important updates, please continue to check the Al-Akhbar, the iiCanada app, and the regional TheIsmaili Facebook and Instagram pages. Members of the Jamat are reminded only to use official sources for communication and to refrain from circulating messages from private sources.
We know that this is a challenging time for all of us, and we pray for the health and safety of the Jamat and look forward to the resumption of Jamatkhana ceremonies.
Thank you for your support and understanding.