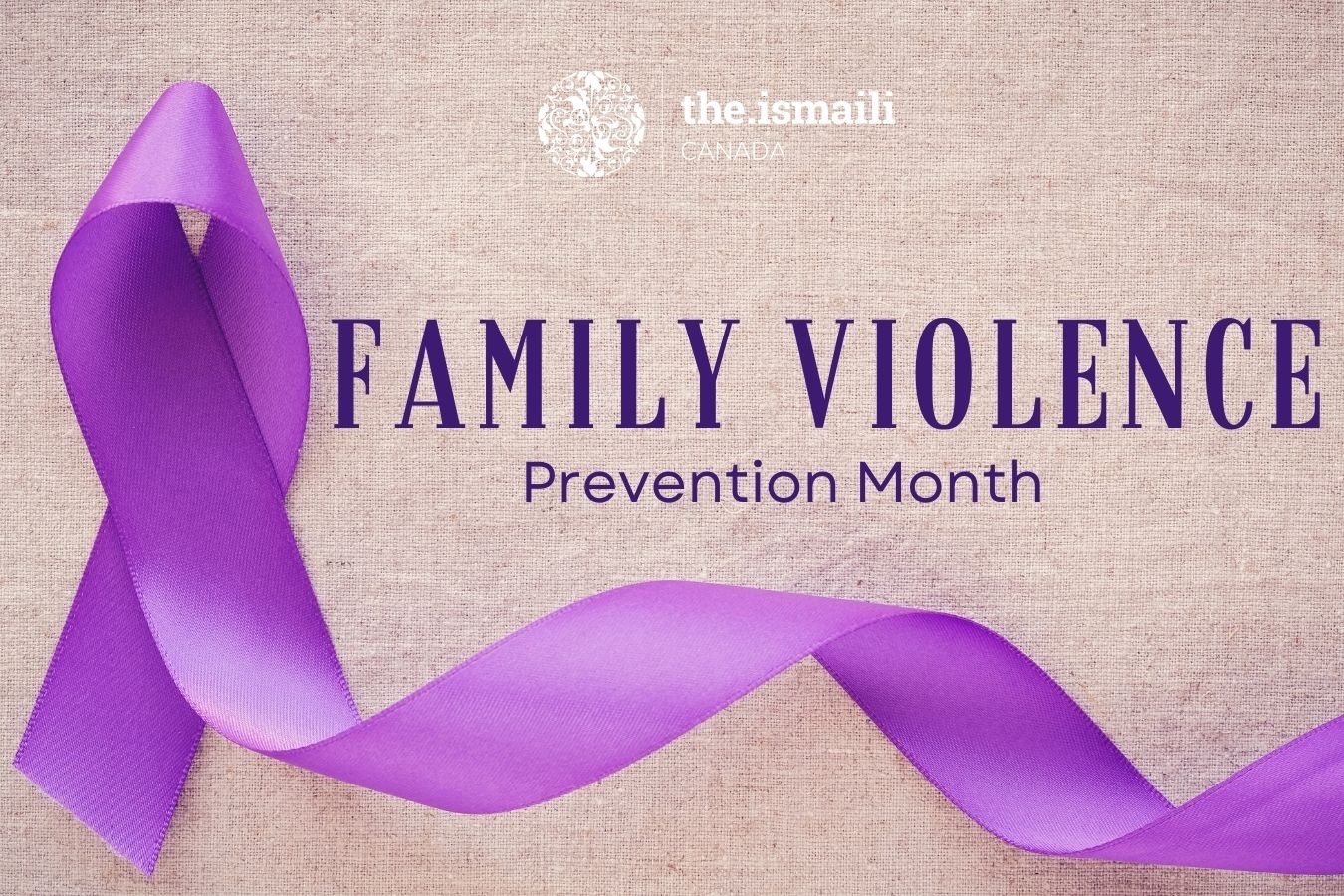 National Family Violence Prevention Month
October 30, 2021 | Canada
November is Family Violence Prevention month.
One in four Canadians has experienced domestic or family violence. With the emotional and financial impacts of the pandemic, domestic/family violence is on the rise. This month, we come together to raise awareness, break down the myths, and destigmatize the topic of family violence within our community. By educating ourselves and shining light on this important topic, we support victims, strengthen families, and strengthen our Jamat.
What is family/domestic violence?
Family violence is any form of abuse or neglect that a child or adult experiences from either a family member or from someone with whom they have an intimate relationship. It is an abuse of power by one person to hurt or control someone who trusts and depends on them.
Who does it impact?
Nobody is immune to family violence – it can occur in any family or partner relationship – between two intimate partners of any sex, between an adult and child, or towards an elder. There is no specific financial status, level of education, or culture that insulates a family from experiencing violence in their home. Domestic violence impacts us all, regardless of age, race, religion, culture, financial status, education, sex, or sexual orientation.
Partner violence can occur in any type of intimate relationship – couples who are married, engaged, dating, or casual. It can occur to people of all sexes. While physical and sexual abuse are more widely recognized as forms of partner violence, there has been a rise in emotional abuse as an outcome of the pandemic.
Child abuse is the physical or psychological mistreatment of a child under 18 by an adult. This adult could be anyone in the child's life, including a biological or adoptive parent, a step-parent, a guardian, or someone else. Child abuse includes any form of physical, emotional, and/or sexual mistreatment, or a lack of care that causes injury or emotional damage.
Elder abuse is any action, or lack of appropriate action, which results in harm or distress to an older person by someone in a relationship of trust. The most common forms of elder abuse are financial abuse (which can occur with or without the consent of the senior) and neglect (the lack of proper care for a dependent senior, whether intentional or unintentional).
What does family/domestic violence look like?
There are many forms of family violence:
Physical abuse of a family member results in bodily injury and sometimes death.
Sexual abuse is any sexual activity towards a family member or intimate partner, including within a marriage, that is either forced, non-consensual, unsafe, or humiliating.
Emotional/Psycho-social abuse includes words or actions to control, frighten, or destroy the self-respect of a family member or intimate partner.
Financial abuse includes the control or misuse of a family member's/an intimate partner's assets by taking them without permission. It can also take the form of preventing them from going to work or otherwise obtaining money/other resources, withholding money, or withholding information about finances from them.
Neglect is when someone does not meet the basic needs to provide care for a dependent family member or intimate partner, such as not providing proper food, warm clothing, health care, medication, appropriate hygiene, proper supervision, or protection from physical harm.
Learn more about the different types of abuse, the effects of regular violence on a person's mental, physical, and spiritual health, and how to find and provide help and support in this recorded webinar: "Let's Talk about Abuse: Love Shouldn't Hurt"
Resources:
If you or someone you know needs helps, get connected to confidential supports and resources by calling the ACCESS Line at 1-888-536-3599 or using the online form.