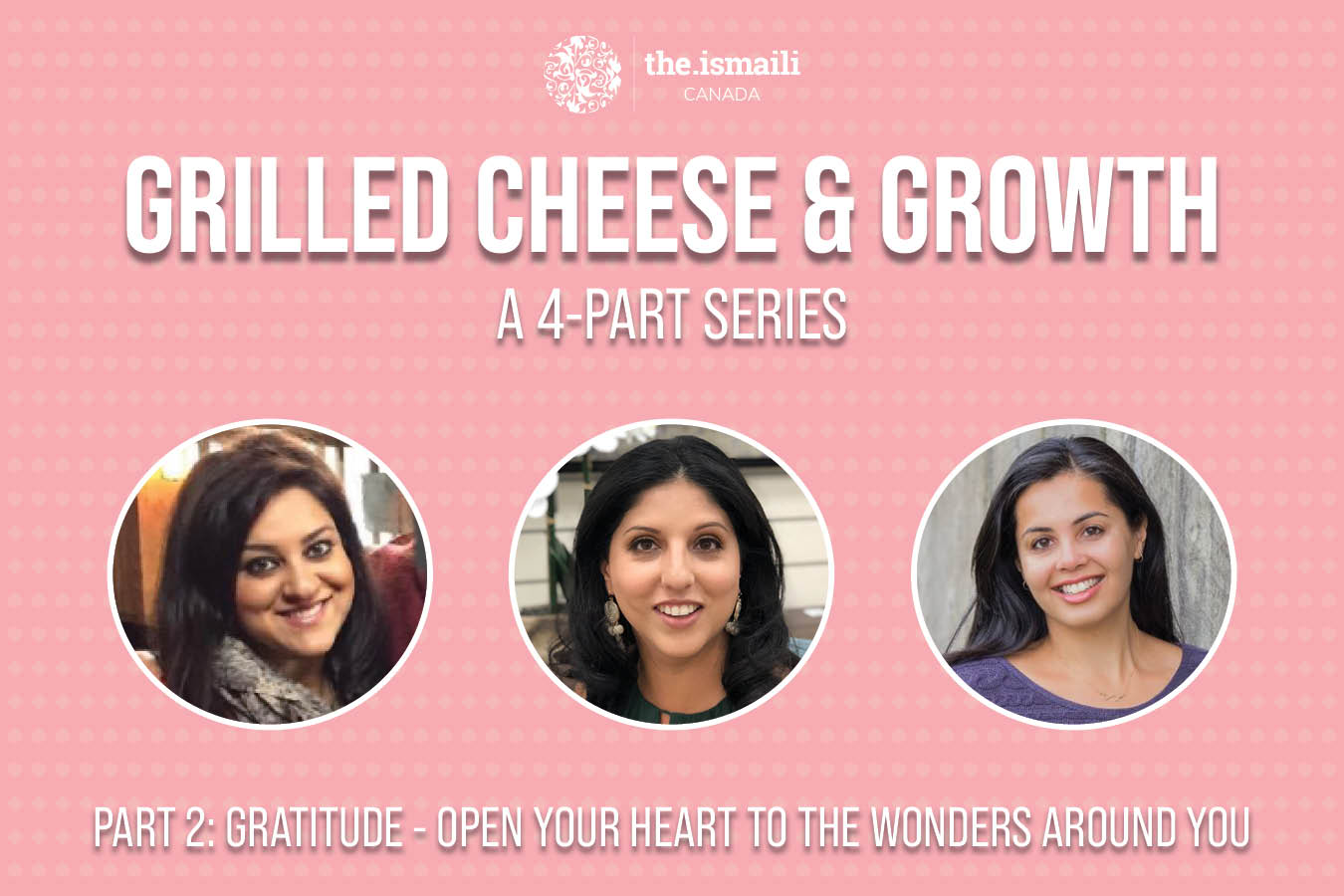 Open to Multi-faith
family members
Description
Further your growth to greatness in this 4-week series, which includes gentle movement, thoughtful self-enquiry, powerful writing exercises, and building your own vision board. Come prepared each week with quotes, photos, magazine pictures, and anything else that inspires you - anything that you may wish to add to your vision board over the course of the series. Practice being grounded and grateful, and launch into growth and greatness with Life Coach Jobina Bardai and Expressive Writing Instructor Taslim Jaffer, along with moderator Karima Damji. While you're at it, learn a little more about grilled cheese! Because growth can be delicious!
Part 2 is entitled: "Gratitude". An attitude of gratitude is easy when things are going great. The true practice lies in times that challenge us. What does it mean to be grateful? How do we open our hearts to the wonders around us? What tools are available to us as we cultivate the deepest level of gratitude? Join Jobina and Taslim in movement, self-enquiry, and writing exercises.
The schedule for the upcoming sessions is as follows:
Sunday, January 24: Gratitude
Sunday, January 31: Growth
Sunday, February 7: Greatness
Each workshop will be a live, interactive session offered via Zoom. The sessions will commence at 10am PT | 11am MT | 1pm ET and will be 1 hour and 45 minutes in length. The maximum capacity is 300 participants.
Each session in the series builds off the previous one, so we strongly encourage you to plan to attend all four. If you cannot attend all four, please join us when you can. (When registering, you are automatically registered for all 4 sessions; no need to re-register each week.)
Registration closes the evening before each session at 5pm PT | 6pm MT | 8pm ET. The Zoom link to join the session will be sent out via email shortly after registration closes.
Women of all ages and multi-faith family members are warmly invited to participate. In order to ensure confidentiality, sessions will not be recorded. . All participants will need to attend the live sessions with their cameras on.
Download the resources for this series below:
------
Jobina Bardai is a transformational life coach, speaker, mentor, dance artist, world traveller, and an unshakable believer in living life large! She has transformed herself in order to live the life she's always dreamed of. As a coach, she works with individuals and helps them to create the life they are craving. Jobina's favourite topics to cover are your relationship with yourself (the foundation of everything you will create in your life), and manifestation (creating from ease and flow).
Taslim Jaffer is a freelance writer and editor, currently pursuing her Master of Fine Arts in creative non-fiction. Her work has appeared in CBC, Maclean's, Huffington Post Canada, WestCoast Families, Peace Arch News, Unearth Women, and other publications. She has taught memoir and expressive writing classes in rehabilitative and community settings since 2015. Taslim is inspired by family stories, culture and society, and the age-old question: "Who am I?" She lives in Surrey with her husband and 3 children.