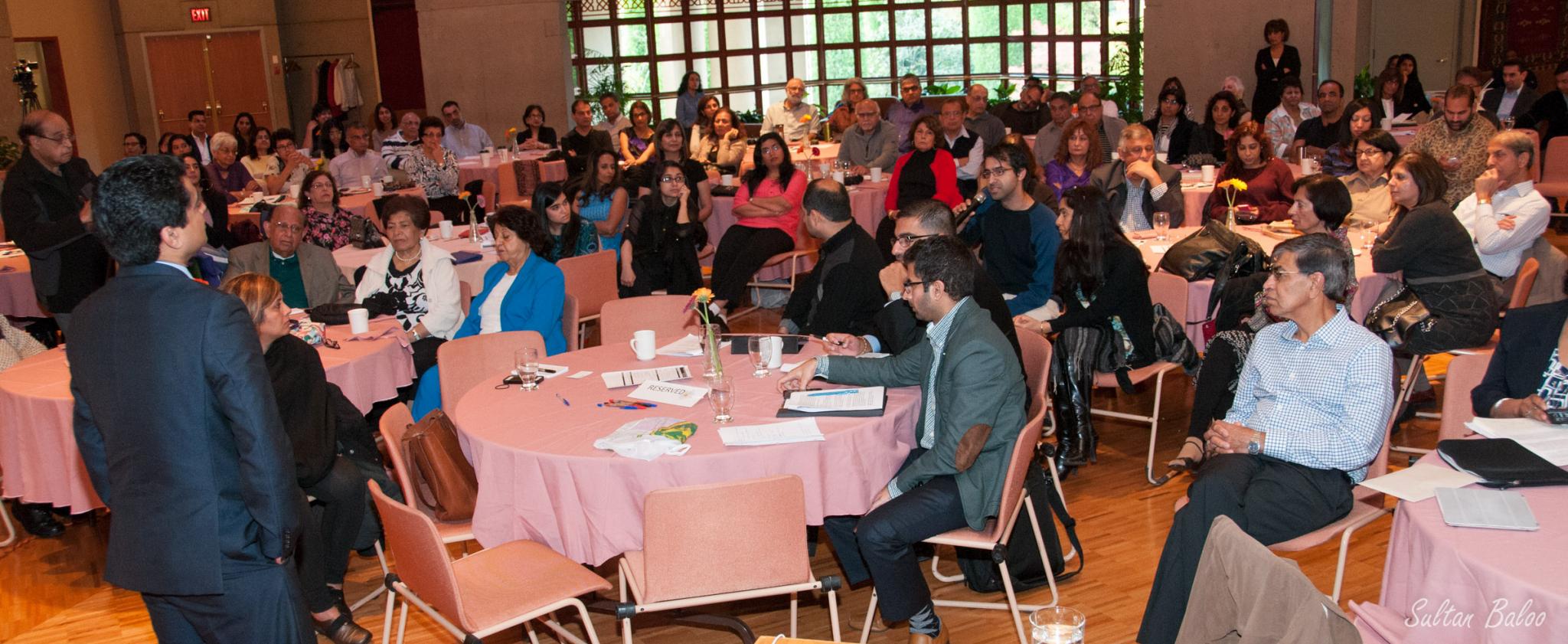 Narratives of Expression: Rethinking identity and music in Muslim discourse
December 5, 2014 | Canada
On November 1st, 2014 the Ismaili Centre in Vancouver hosted a program aimed at demonstrating the role of music as an important mode of expression. The Ismaili Centre thus acted as an anchor for public dialogue and provided an environment where individuals could exchange ideas and create mutual understanding.
The event highlighted the use of music as a tool to discuss various aspects of Muslim identity. The program entitled Narratives of Expression: Rethinking identity and music in Muslim discourse brought together artists and academics to discuss how music acts as node of identity, wherein we are able to demonstrate the ways in which identities are renewed, re(created), and negotiated. Music therefore becomes the entry point into a wider topic that reflects the diverse identities of the wider Muslim community.  Through the medium of music, academics Dr. Hussein Rashid and Dr. Karim Gillani explored the lived reality of Muslims in everyday life and the socio-cultural forces at play. The presenters also provided tools for 'rethinking' modern labels of Muslim identity and broke down the generalizations aimed at the world's second largest religious community.
Dr. Rashid's presentation entitled "Sounding Off: Making National Narratives through Music" focused on how Muslims integrate different musical expressions to alter national narratives and normalize the presence of Muslims in North America. Dr. Rashid looked at musical genres from hip-hop to qawwali, including the practice of silence. The talk also touched on transnational flows, mixing of traditions, and Muslims ignorance of their own traditions. The question-and-answer revolved around two themes: valuing the human being and the race to cultural amnesia that Muslims are participating in.
Dr. Gillani's lecture "From Roots to Routes:  (Re) construction of Sufi music in the world of Sounds discussed the importance of spirituality through sounds. His presentation noted how diversity in language and culture has, for centuries, found expression in sonic form and music-articulating faith and piety in relation to a plurality of local, historical, and social identities. Dr. Gillani further pointed out that such expressions are deeply grounded in practices that have deep spiritual roots, aesthetic effects, and a powerful impact on faith. As such, music plays a pivotal role towards constructing, re-constructing and negotiating identities; a continuous process through which communities learn from each other and grow.
At the heart of this program, was a roundtable discussion held by the academics along with artists, Salim & Sulaiman of Bollywood as well as Ali Ramzi and Hamin Honari of Qalandar. The roundtable sought to facilitate a dialogue that offered the audience new modes of thinking and articulating narratives of inclusivity in the wider community. There exists a variety of diverse ways in which individuals use music and these artists spoke about their experience regarding music making and the impact it has in popular culture. The artists also raised important points about the responsibility of representation and the complexity of labeling music within specific confines.  This discussion demonstrated that identity and music share characteristics of fluidity- we are whom we are in intimate connection with those amongst and against whom we continually redefine ourselves.
Also visit the Photo Gallery
More Arts and Culture News